This campground is a great little place to stay if you want to explore Charleville. It's a basic bush camp on a large open level block scattered with trees. Sites vary from fully shaded to those in full sun. There is grass, but it is dependent on rain, which is not all that often in these parts. The site will fit rigs of all shapes and sizes, but you have to be fully self-contained as there are minimal facilities which include a Dump Point, Waste Bins, Water Points, Camp Shelter and Communal Fire pit.  There are a few powered sites also available for those that need it for an extra charge. 
It is very spacious and you can spread out and select your own site. It is a pet friendly site but for NON-SMOKERS ONLY.
HOW TO GET THERE
The site is located 2km north west of town, via the Charleville-Adavale Road. Turn off the Mitchell Highway and proceed for 750m where you will see the driveway on our left. It is clearly marked with a large sign at the entry.
SITE ACCESS
As you enter the site, the dump point and waste bins are on your left and you will see the Caretakers van to your right. The caretakers are very friendly, usually greet you on arrival, and you are free to choose your own site. If they are not there, just proceed to the site and they will find you later.
FEES & BOOKINGS
Booking are not required.
Fees are $5 per person, per night un-powered site. No extra charge for children.
$20 Powered Site.
SEE THE REVIEW VIDEO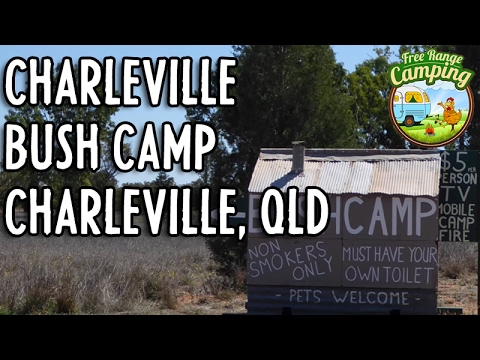 THINGS TO DO
For a small town, there is lots to see and do in Charleville.  There are some beautiful parks to visit, including one with Vortex Rainmaking Guns which were introduced in the early 1900's in anticipation the blast would change the atmospheric pressure and entice the rain.
The Visitor Information Centre lies just south of town and houses the Cosmos Observatory with many tours to choose from including, introduction to the Night Sky, Aboriginal night time stories, Astronomy by day and Bilby experiences, and camel rides out the front.
You can visit the local weather station for an insight into how they predict the weather, and check out the Royal Flying Doctor base and the Charleville branch of the School of Distance Education. Other attractions include the Heritage, Flood and Fire Tour, WII Top Secret USA Base Tours, The Historic House Museum, Scenic flights by Outback Air Tours and some Tag Along Tours to the outback.