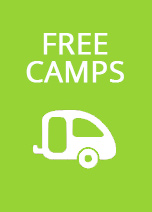 This is one of many camp sites located within the Delatite Arm Reserve. The reserve is situated along the shores of Lake Eildon and is adjacent to bushland, pine plantation and revegetated forest areas. It is popular for camping, water sports, scenic views and fishing. A network of forest tracks provides opportunities for 4WDriving, trail bike riding, mountain bike riding and bush walking.
SITE ACCESS
The reserve is approximately 190 km north east of Melbourne, via Mansfield or Jamieson. Access to the Delatite Peninsula is via Walshs Road, near the township of Goughs Bay. Motor vehicles, trucks, motorbikes, mountainbikes, horses and pedestrians share this road.
During summer, traffic can create considerable dust and restrict visibility so please drive according to local conditions. Harvesting of the pines can occur any time from November to July. Trucks carrying logs and harvesting equipment use UHF channel 25 to communicate with other traffic..
FEES
Fees are not charged and booking is not necessary, camping is on a first-come first-served basis and no bookings are required, but early arrival may be advisable during peak periods.
FACILITIES
There are numerous camping sites located above the high water mark of Lake Eildon. Toilets are provided at all campsites for your convenience _ please use them
Camping is not allowed below the high water mark.
Please remember:
Be careful of camping under trees. Trees can lose their limbs at any time, particularly during high winds.
Protect water quality _ wash up at least 50 metres away from the lake or any streams and avoid using soap (use gritty sand and a scourer instead)
If there are no facilities for rubbish collection please take rubbish with you when you leave and ensure the area is clean for future campers.
THINGS TO DO
Trail bike riding and touring by 4WD is popular here and there are many tracks to follow. Boating and Fishing are also popular activities in these areas.
RULES:
Only camp in an existing campsite rather than create a new one and camp at least 20 meters from any stream, lake or reservoir.
Do not dig trenches around tents.
Take your rubbish home. Do not bury or dump litter in the forest.
Where drop toilets are provided, please use them for their intended purposes. Do NOT use these toilets to empty chemical waste from cassette toilets or for the disposal of general waste.
Campfires are permitted, provided the following guidelines are observed:
The fire is in a fireplace or trench 30 cm deep. Please use existing fireplaces rather than create your own.
The fire is not more than 1 square metre and 3 metres around the fire is cleared.
The fire is not left unattended and is put out before you leave.
Collect only fallen wood for fires _ Cutting down trees or damaging standing vegetation is not permitted.
Fires of all types, including portable gas and liquid fuel stoves, are prohibited on days of TOTAL FIRE BAN
It is your responsibility to know if a TOTAL FIRE BAN is declared.
For up to date information about Fire Bans refer to www.emergency.vic.gov.au
For more detailed information please visit the DELWP website via the link below.
In most cases access to these sites is possible with a 2WD and suitable for small caravans. FRC are still in the process of obtaining more information about this site and it will be updated as it comes to hand.
Data courtesy of: Dept of Environment, Land, Water & Planning
Updated: 270315RC